español abajo
Delegation Report-Back
Women in Nicaragua:
Power and Protagonism
January 2023
Hailing from all corners of the United States and Canada, 22 delegates ranging from the ages of 10 to 80 traveled to Nicaragua from January 7-16, 2023 to investigate the conditions and the lives of Nicaraguan women on a delegation organized by the Jubilee House Community – Casa Benjamin Linder and Alliance for Global Justice. We had the opportunity to meet with a plethora of community organizers, workers, and public officials: from peasant feminist farmers to self-employed unionists; from urban community health workers to nurses and doctors; from battered women's program directors to women leaders in the police, National Assembly, and Ministry of Women. We met with Nicaraguans from all walks of life and heard their stories of resilience and empowerment despite two hundred years of imperialist aggression and efforts to undermine their sovereignty. With the lowest crime rate in Central America, we found Nicaragua to be a safe, welcoming place that prioritizes the human rights and needs of its people.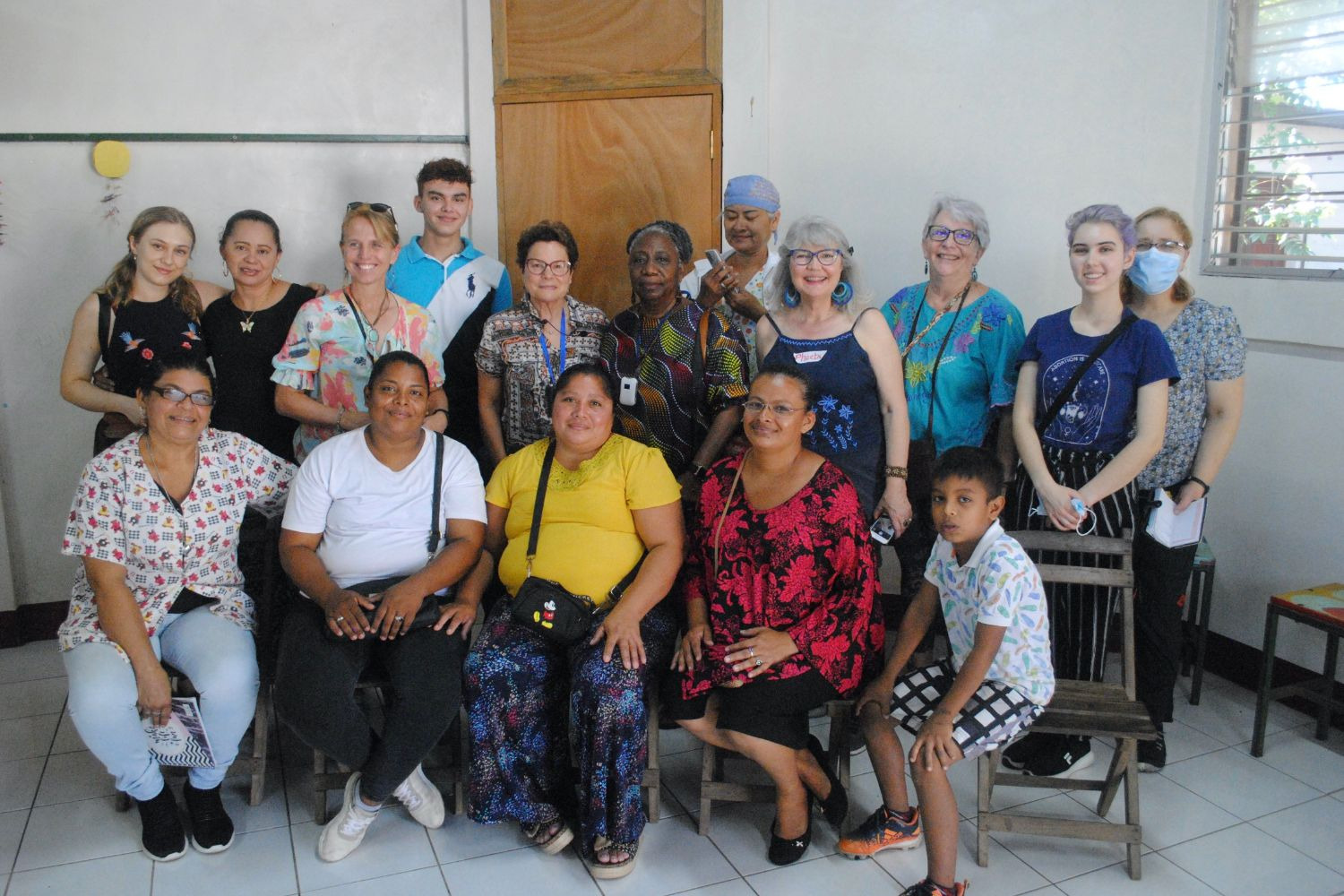 We were inspired by the power and protagonism of Nicaraguans and particularly Nicaraguan women and their participation in their communities and governments. Over the past 16 years, the Sandinista government has promoted proactive, preventive, and community-based programs that prioritize the needs of women, children, and the marginalized. The World Economic Forum's Global Gender Gap Report of 2022 ranks Nicaragua 7th worldwide for gender parity and first in women's educational attainment, literacy, and women in parliament and cabinet positions. These accomplishments reflect the Sandinista government's investment in its people, with 57% of its budget dedicated to health and education. Since 2007, when the Sandinistas were reelected, the wellbeing of the Nicaraguan people has improved significantly: infant mortality was reduced by 55% and maternal mortality by 66% by 2021. During the COVID-19 pandemic the country has never shut down, but has used public health and popular education methods to keep deaths to 37 per 1 million population (in the United States 3,260 of every 1 million residents have died). Today, around 90% of the population two years and older has received at least two doses of vaccine, the Nicaraguan economy has continued to grow, health and education services have not suffered, and the country has avoided incurring excessive debt like many of its neighbors.
The Sandinista government implements a rights-based framework for policy-making that provides the mechanisms for all people to actualize their human rights to water, housing, education, health, safety, and food. In 2007, under the U.S.-backed neoliberal government, 24% of youths had no schooling. By 2020, that had dropped to 4%. In 2006, one in four people were illiterate. Today, less than 3% of the population is illiterate. Nicaragua is now virtually food self-sufficient, growing practically everything needed to feed its population.
These strides in social indicators are also thanks to the Sandinista government's community-based model of participation in civic life that empowers all sectors of society and leaves no one behind: often referred to as "el pueblo presidente" (meaning, "the people are president"). More than 600,000 land titles have been provided to peasants since 2007 (55% of them women), and about a third of the national territory has been legally deeded to 304 Indigenous and Afro-descendant communities. As a signatory to the Universal Declaration of Human Rights, Nicaragua has passed laws to guarantee women equal rights, free healthcare and education, and 50% political representation, requiring that half of candidates for elected office be women.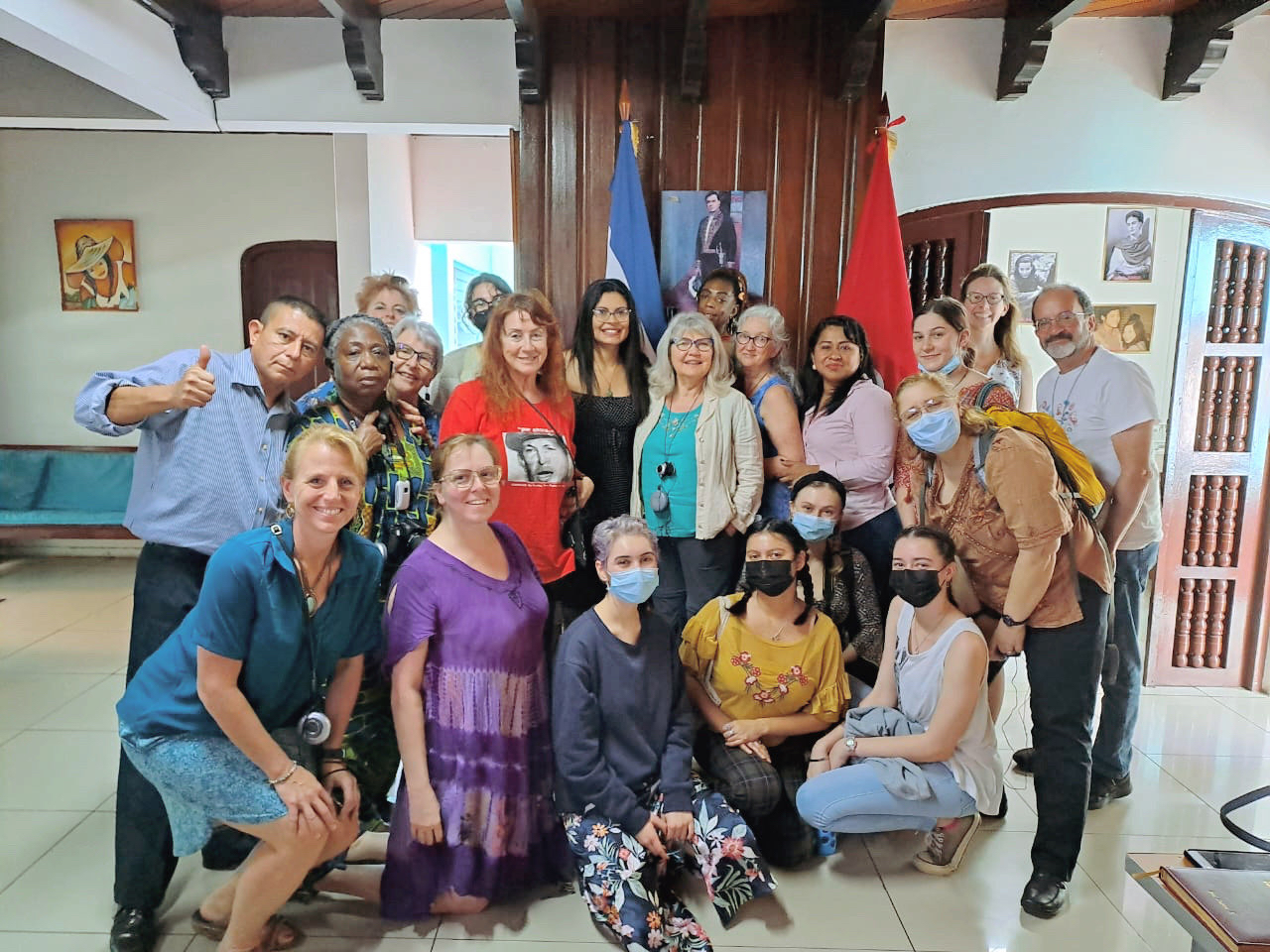 We saw with our own eyes Nicaragua's significant investments in infrastructure that have notably improved the lives of its people and particularly women, notably:
State of the art hospitals and innovative women's health programs;

Free education at the preschool, vocational, and postdoctoral levels;

Investment in quality roads and transportation, including the construction of a highway from the Pacific to the Caribbean coast (providing access to the capital for Indigenous and Afro-descendant populations), and the addition of electric vehicle charging stations as roads are paved and improved;

Electricity in almost all homes (over 98%);
Over 70% of electricity deriving from renewable sources (up from 26% in 2006); and

Free wifi in parks and expansion of fiber optic cable to remote areas.
Witnessing these achievements firsthand has brought to light why Nicaragua is the "threat of a good example." Nicaragua's leadership in adaptability, creativity, sustainability, and popular democracy proves that another world is possible: one freeing itself from the grip of global capitalist hegemony and predatory imperialism through the empowerment and promotion of the rights of all people. It's for this reason that the United States and its corporate stakeholders continually seek to demonize Nicaragua and undermine its advancements.
The people we met encouraged us to ask our government to respect their country's sovereignty and their right to a life of dignity, self-determination, and peace. As we approach the 200th Anniversary of the Monroe Doctrine, we strongly urge the Biden Administration and Congress to lift all sanctions imposed on the Nicaraguan people and government. And we urge our fellow North Americans to visit Nicaragua for themselves to enjoy her many beautiful tourist attractions and learn from the example of the Nicaraguan people.
Signed by:
-Rita "Jill" Clark-Gollub (translator and interpreter)
-Richard Gollub (Chief Financial Officer, retired)
-Natalia Burdyńska-Schuurman (National Co-Coordinator, Alliance for Global Justice)
-Susan B. Lagos (Spanish and English teacher)
-Gloria Rodas (undergraduate researcher, UC Berkeley Latinx Research Center)
-Tammy Spengler (licensed clinical social worker)
-Dianne Blais (Secretary, Women's International League of Peace and Freedom)
-Phoebe Thomas Sorgen (Berkeley Fellowship of Unitarian Universalists Board Trustee and Green Party U.S. Delegate to the Global Green Network)
-Ruby Morris (Sociology and Sustainability Studies student and President of Peace Action at SUNY – Geneseo)
-Ann Faust (MD, FACS, PhD, MBChB, IBCLC)
-Eleanor Perrine (Psychology and Women's and Gender Studies student at University of Maryland, Baltimore County)
-Meredith Field (PhD, MSEd)
-Nina McGranahan (Environmental Science and Policy student at the University of Maryland – College Park)
-Rebecca Wilson (Federal Tax Attorney, retired)
-Maimuna Dada (Social Services Administrator, retired)
-Mukasa Ricks (Revolutionary Pan-Africanist and former organizer for the Student Nonviolent Coordinating Committee, Black Panther Party and All-African People's Revolutionary Party)
-Linda Helland (MPH, CPH, Climate Change and Health Equity Program Manager)
-Jennifer Sullivan (Treasurer, Women's Caucus of the Green Party U.S.)
-Erica Caines (Co-Coordinator of Black Alliance for Peace – Haiti/Americas Team)
-Amy Davis (cybersecurity analyst)
-Becca Renk Foster (Jubilee House Community)
-Sensei Orla Mohally Renk (President of the Villa Soberana Chapter of the Federation of Secondary School Students, Nicaragua)
For all the recordings and materials of the series Women in Nicaragua: Power and Protagonism, please visit Casa Benjamin Linder's website.
Informe de la delegación
Mujeres en Nicaragua:
Poder y Protagonismo
Enero 2023
Provenientes de todas partes de los Estados Unidos y Canadá, 24 delegadas y delegados de 10 hasta 80 años de edad viajaron a Nicaragua del 7 al 16 de enero de 2023 para investigar las condiciones y las vidas de las mujeres nicaragüenses en una delegación organizada por la Casa Benjamín Linder-Jubilee House Community y la Alianza por la Justicia Global. Tuvimos la oportunidad de reunirnos con una plétora de organizadoras comunitarias, trabajadoras y funcionarios públicos: desde campesinas feministas a trabajadoras cuentapropistas, desde trabajadoras de la salud comunitaria urbana a enfermeras y médicas, desde directoras de programas para mujeres maltratadas a mujeres líderes en la policía, la Asamblea Nacional y el Ministerio de la Mujer. Nos reunimos con nicaragüenses de todas las profesiones y condiciones sociales y escuchamos sus historias de resistencia y empoderamiento a pesar de doscientos años de agresión imperialista bajo la Doctrina Monroe y los esfuerzos por socavar su soberanía. Con el índice de delincuencia más bajo de Centroamérica, Nicaragua nos pareció un país seguro y acogedor que da prioridad a los derechos humanos y las necesidades de la población.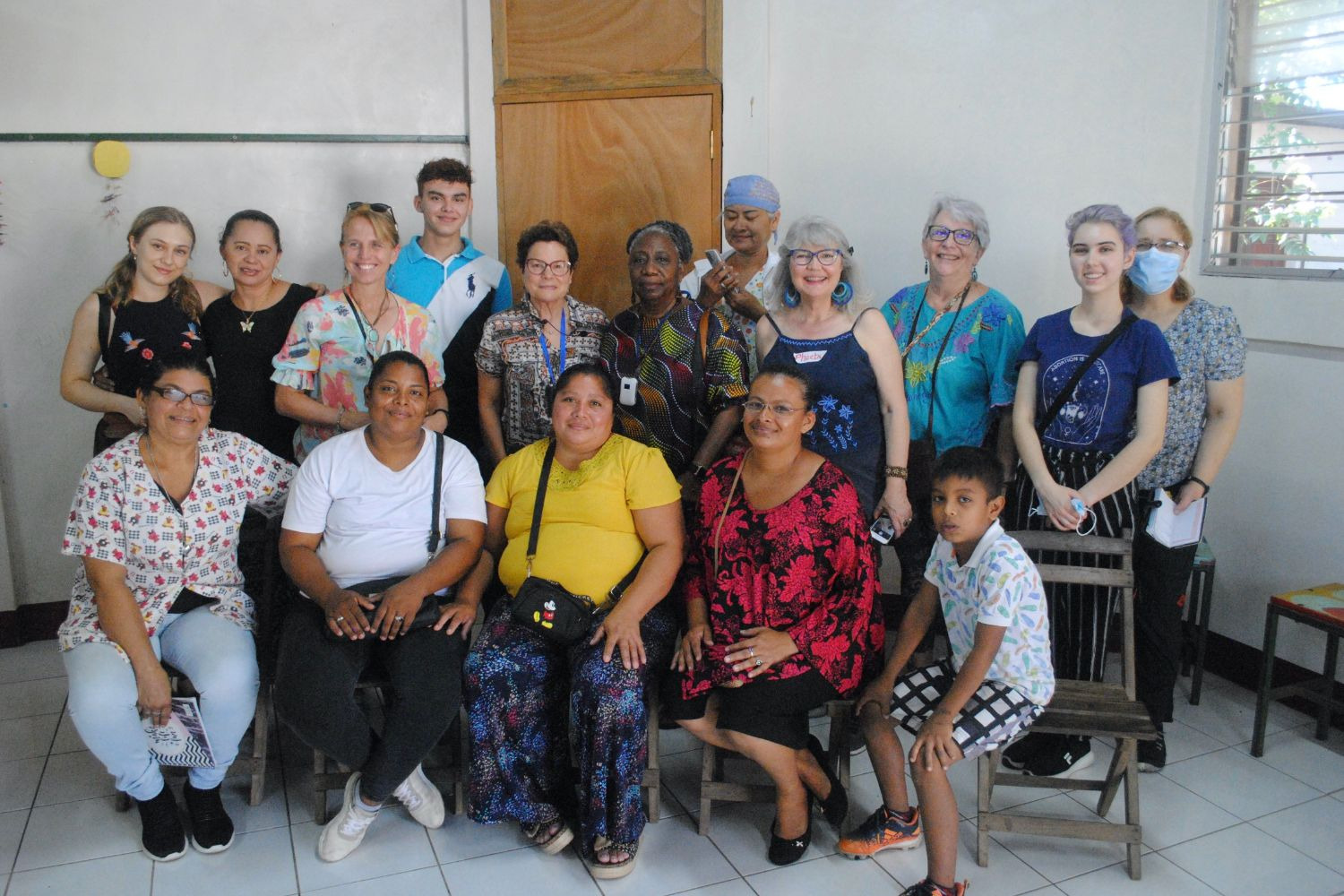 Nos inspiró el empoderamiento y protagonismo de los nicaragüenses y, en particular, de las mujeres y su participación en sus comunidades y las diferentes instancias del estado. En los últimos 16 años, el gobierno sandinista ha promovido programas proactivos, preventivos y comunitarios que dan prioridad a las necesidades de las mujeres, los niños y los marginados. El Informe Mundial sobre la Brecha de Género del Foro Económico Mundial de 2022 sitúa a Nicaragua en el séptimo puesto mundial en cuanto a paridad de género y en el primero en cuanto a nivel educativo de las mujeres, alfabetismo, mujeres en el parlamento y mujeres ministros de gobierno. Estos logros reflejan la inversión del gobierno sandinista en su pueblo, con el 57% de su presupuesto dedicado a salud y educación. Desde 2007, cuando los sandinistas volvieron al poder, el bienestar del pueblo nicaragüense ha mejorado de manera importante: la mortalidad infantil se ha reducido en un 55% y la mortalidad materna en un 66%. Durante la pandemia de COVID-19 el estado no ordenó un encierro, sino utilizó métodos de salud pública y educación popular para mantener las muertes en 37 por cada millón de habitantes (en Estados Unidos perecieron 3.362 de cada millón de habitantes). En la actualidad, más del 90% de la población mayor de dos años ha recibido al menos dos dosis de vacuna contra el COVID, la economía nicaragüense ha seguido creciendo, los servicios sanitarios y educativos no han disminuido y el país ha evitado contraer una deuda excesiva como muchos de sus vecinos.
El gobierno sandinista aplica un marco basado en derechos para la formulación de políticas que proporcionan los mecanismos para que todas las personas realicen sus derechos humanos al agua y a la vivienda, la educación, la salud, la seguridad y la alimentación. En 2007, a finales del gobierno neoliberal respaldado por Estados Unidos, el 24% de los jóvenes carecían de educación alguna. Para 2020, esa cifra se había reducido al 4%. En 2006, una de cada cuatro personas era analfabeta. Hoy, menos del 3% de la población no sabe leer y escribir. Nicaragua es ahora casi autosuficiente en materia de alimentos, ya que produce prácticamente todo lo que consume la población.
Estos avances también se deben al modelo comunitario y participativo del gobierno sandinista, que empodera a todos los sectores de la sociedad y no deja a nadie atrás, llamado "el pueblo presidente". Desde 2007 se han entregado más de 600.000 títulos de propiedad (el 55% de ellos a mujeres), y se ha escriturado legalmente alrededor de un tercio del territorio nacional a 304 comunidades indígenas y afrodescendientes. Como país signatario de la Declaración Universal de los Derechos Humanos, Nicaragua ha promulgado leyes que garantizan a las mujeres la igualdad de derechos, la gratuidad de la salud y la educación, y una representación política del 50%, con el requisito que la mitad de los candidatos a cargos electos sean mujeres.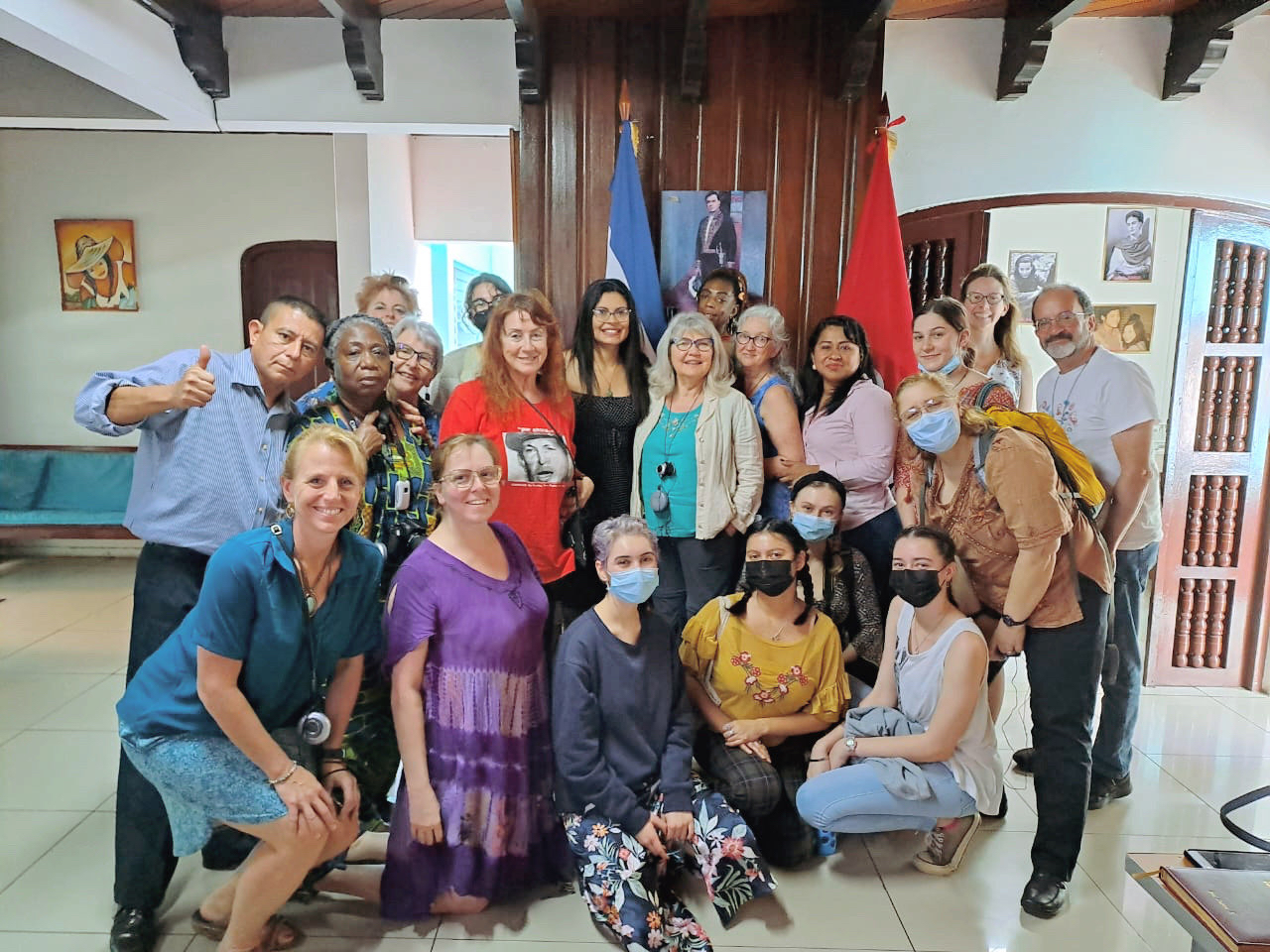 Vimos con nuestros propios ojos las importantes inversiones de Nicaragua en infraestructuras que han mejorado notablemente la vida de las personas y las mujeres, como:
Hospitales con la última tecnología y programas innovadores de salud de la mujer;

Educación gratuita en los niveles preescolar, profesional y posgrado;

Inversión en la red vial y transporte de calidad, incluida la construcción de una carretera que une la costa del Pacífico con la del Caribe (facilitando así el acceso a la capital para las poblaciones indígenas y afrodescendientes) y la instalación de estaciones de carga de vehículos eléctricos a medida que se pavimentan y mejoran las carreteras;

Electricidad en casi todos los hogares

(más del 98%);

Más del 70%

de la electricidad de fuentes renovables (frente al 26% en 2006); y

Wifi gratuito en los parques y ampliación del cable de fibra óptica a zonas remotas.
Después de presenciar estos logros entendemos el por qué Nicaragua es la "amenaza de un buen ejemplo", con su modelo de resiliencia, creatividad, sostenibilidad y democracia popular. Esto demuestra que otro mundo es posible: uno que se libere de las garras de la hegemonía capitalista global y del imperialismo depredador mediante el empoderamiento y la promoción de los derechos de todas las personas. Por este motivo, Estados Unidos y los medios de comunicación corporativos tratan continuamente de demonizar a Nicaragua y socavar su soberanía y sus avances.
Las personas con las que nos reunimos nos instaron con frecuencia a pedir a nuestro gobierno que respete su soberanía y su derecho a una vida digna, a la autodeterminación y a la paz. Ahora que nos acercamos al 200 aniversario de la Doctrina Monroe, instamos firmemente al gobierno de Biden y al Congreso estadounidense a que levanten todas las sanciones impuestas al pueblo y al gobierno de Nicaragua. También instamos a nuestras y nuestros compatriotas norteamericanos a visitar Nicaragua por sí mismos para disfrutar de sus muchas y hermosas atracciones turísticas y aprender del ejemplo del pueblo nicaragüense.
Firmado por:
-Rita "Jill" Clark-Gollub (traductora e interprete)
-Richard Gollub (Director Financiero, jubilado)
-Natalia Burdyńska-Schuurman (Co-Coordinadora Nacional, Alianza por la Justicia Global)
-Susan B. Lagos (maestra de español e ingles)
-Gloria Rodas (investigadora, Centro de Investigación Latinx, Universidad California Berkeley)
-Tammy Spengler (trabajador social clínico titulado)
-Dianne Blais (Partido Verdo EEUU)
-Phoebe Thomas Sorgen (Fideicomisario de la Junta de la Hermandad de Universalistas Unitarios de Berkeley y Delegado del Partido Verde de EE.UU. en la Red Verde Mundial)
-Ruby Morris (Estudiante de Sociología y Estudios de Sostenibilidad y Presidenta de Acción de Paz en SUNY - Geneseo)
-Ann Faust (MD, FACS, PhD, MBChB, IBCLC)
-Eleanor Perrine (Estudiante de Psicología y Estudios de la Mujer y de Género en la Universidad de Maryland, Baltimore County)
-Meredith Field (PhD, MSEd)
-Nina McGranahan (Estudiante de Agroecología en la Universidad de Maryland - College Park)
-Rebecca Wilson (Abogada fiscal federal, jubilada)
-Maimuna Dada (Administradora de Servicios Sociales, jubilada)
-Mukasa Ricks (Panafricanista revolucionario y ex organizador del Comité Coordinador Estudiantil No Violento, el Partido de las Panteras Negras y el Partido Revolucionario del Pueblo Panafricano.)
-Linda Helland (MPH, CPH, Responsable del Programa de Cambio Climático y Equidad en Salud)
-Jennifer Sullivan (Tesorera, Bancada de Mujeres del Partido Verde de EE.UU.)
-Erica Caines (Co-Coordinadora de la Alianza Negra por la Paz - Equipo Haití/Américas)
-Amy Davis (analista de ciberseguridad)
-Becca Renk Foster (Jubilee House Community)
-Sensei Orla Mohally Renk (Presidenta de la Federación Estudiantil de la Secundaria FES Colegio Villa Soberana, Nicaragua)
Para consultar todas las grabaciones y materiales de la serie Mujeres en Nicaragua: Poder y Protagonismo, visite el sitio web de la casa Benjamín Linder aquí.
March 11th – 19th, 2023
Cost: $850
Application and more info: casabenjaminlinder@gmail.com
New Dates! April 27th – May 6th, 2023
Cost: $900 (limited scholarships available)
More info: info.friendsatc@gmail.com